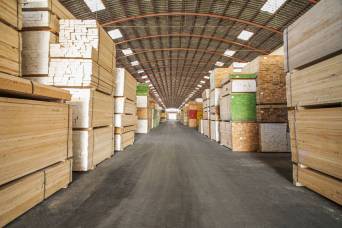 Comolas was bought in 1960 by the Bruttini family and under the business ability of the new owners the company had an exponential growth reaching a considerable position in the internal market. The current company organization is centered on two main directions:
material selection: the experience coming from years of business, allowed our company to find the best lumber producers in the world, giving us the opportunity to offer the best items with a high reliability.
quality of service: our efficient and flexible organization characterized by competent staff and supported by technologically advanced equipment enables us to respond accurately and timely to our customers' requests with targeted and customized services.
This philosophy of our work represents the solid foundations on which Comolas has based its current and future development
Chronology
The following are the main stages of our Company's history
Established in 1929
1961 Acquisition by Cavalier Bruttini Mario
1967 The firm moves to present place
1970-1972 Building of the main shed which covers about 6000 sqm and of the private connecting track picture
1974-1975 Setting up and installatio of the sawmill with the building of a new shed
1976 Installation of the first desiccation cell for the lumber seasoning
1977 Mr Bruttini Fabio joins the company as partner
1980 Building of the second shed
1991 Building of the unloading ramp for containers handling
1987 The company joins Confindustria.
2006 The company joins Federlegno.
Our organization includes a work force of about 30 people some of whom have been working with us for over 30 years and have gained experience and expertise to satisfy all customer's requirements.
The offices at the entrance of the company are occupied by the management the administrative and the logistic offices.
Next to these acts the commercial department that together with our external representatives allow us to be present in almost all of the national territory.

Lumber management is carried out on an area of 60.000 square meters, 10.000 of which are covered.
Each processing is carried out inside our structure using owned equipment: forklifts for handling and storage, trucks for deliveries, drying chambers for seasoning of material, sectioning machinery for panel cutting.